This is the 15′ Marsh Cat, designed by Joel White with some modifications by Big Pond Boat Shop. It is a big, stable, comfortable, and fast catboat!. Perfect for exploring shallow creeks and shorelines, and roomy for camp cruisers.
Design Modifications
Adjustable Centerboard up-haul. The original design only allows for the
centerboard to be all the way up or all the way down.
Barn Door Rudder; the original design has a drop rudder, this modification
has a traditional looking 'barn door" rudder with an aluminum
wing on the bottom.
Buoyancy tanks port and starboard/ seats and forward buoyancy tank under deck
The construction of the mast is hollow 'birds mouth' construction which
makes a lighter stiffer mast.

This boat is designed for sailing in protected waters only.
People and equipment combined should not exceed 750 lbs
General Construction:
Cold Moulded hull There are two aft buoyancy tanks constructed from epoxy saturated marine plywood with mahogany trim which create built in seating and there is a forward buoyancy tank under the foredeck formed by the installation of a watertight bulkhead forward of the mast. Top of the centreboard trunk, cockpit coamings, seat trim, floorboards and toe rail are varnished mahogany.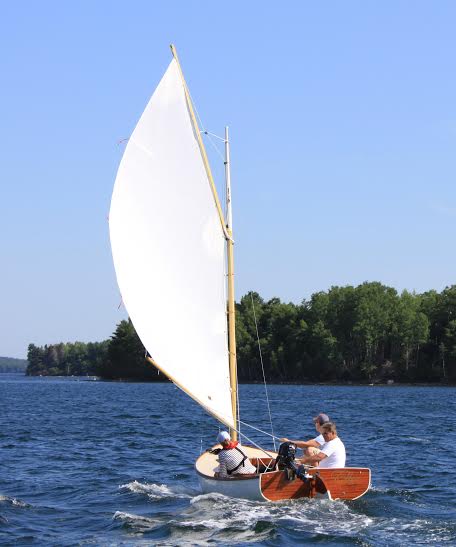 SPECIFICATIONS
Designer: Joel White
LOA 16′ 6" with bowsprit
LWL 14′
Beam 6′ 11″
Draft Board up 9″
Board down 2'5″
Sail area 153 sq ft
Displacement 1309 lbs
Please contact us for current pricing
Boat complete includes:
Varnished Spruce Spars, with Harken blocks and braided dacron control lines (halyards and sheet)
Stainless Steel forestay and shrouds with turnbuckles
Gaff sail
Varnished tiller with tiller extension
Weighted foil centreboard with braided dacron control lines, Harken block and Harken cam cleat
Paddle
Options: