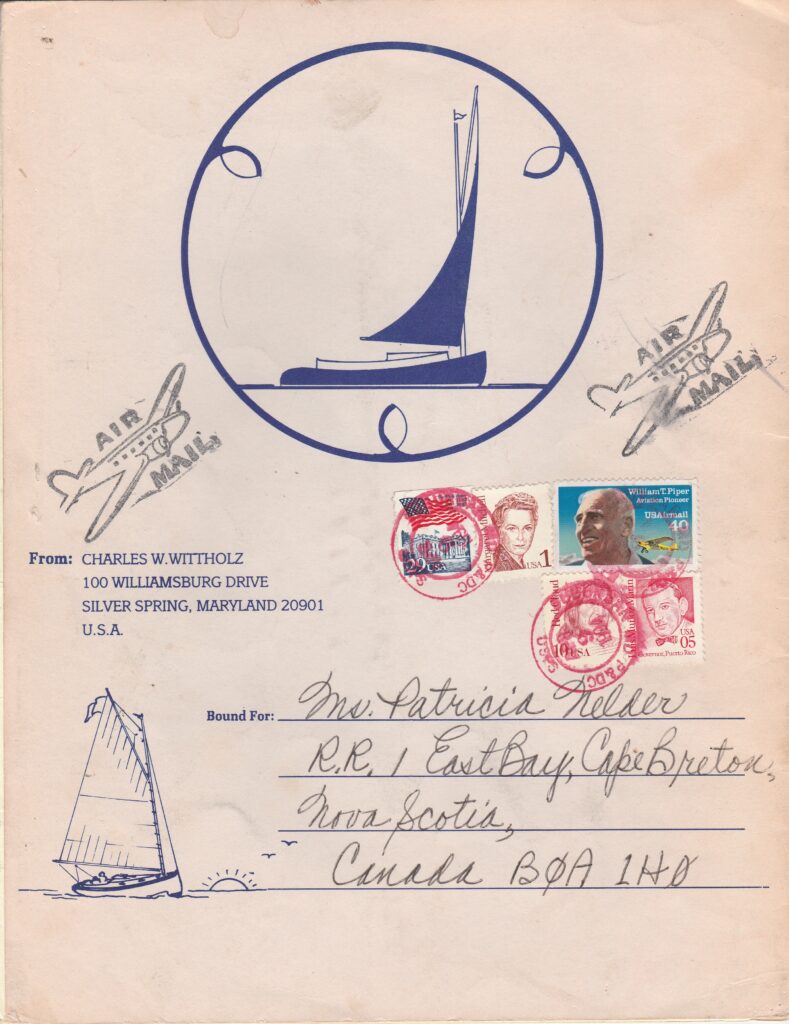 With the completion of Drumbeat, we realized that we had a fair amount of boat building epoxy left over, so the search started to find a new boat to build. In 1994 we thought we might like to build a Catboat. Catboats originated as fishing boats on the East Coast of the USA, and a simplified description of a Cape Cod Catboat would be that the beam is half its length overall, with a mast forward and a large hold for fish. Often shoal draft, these boats were capable of getting the 'catch' home in a hurry. As time went on, pleasure Catboats started to be built, keeping similar dimensions and the mast with its large sail forward. We looked at several Catboat designers including Fenwick Williams and Charles Wittholz. Sadly Mr Wittholz passed away in 1993 but his widow sent us his Catboat Design booklet and we ordered the plans for his 20′ round bottom Catboat which could be built with a cold-molded hull.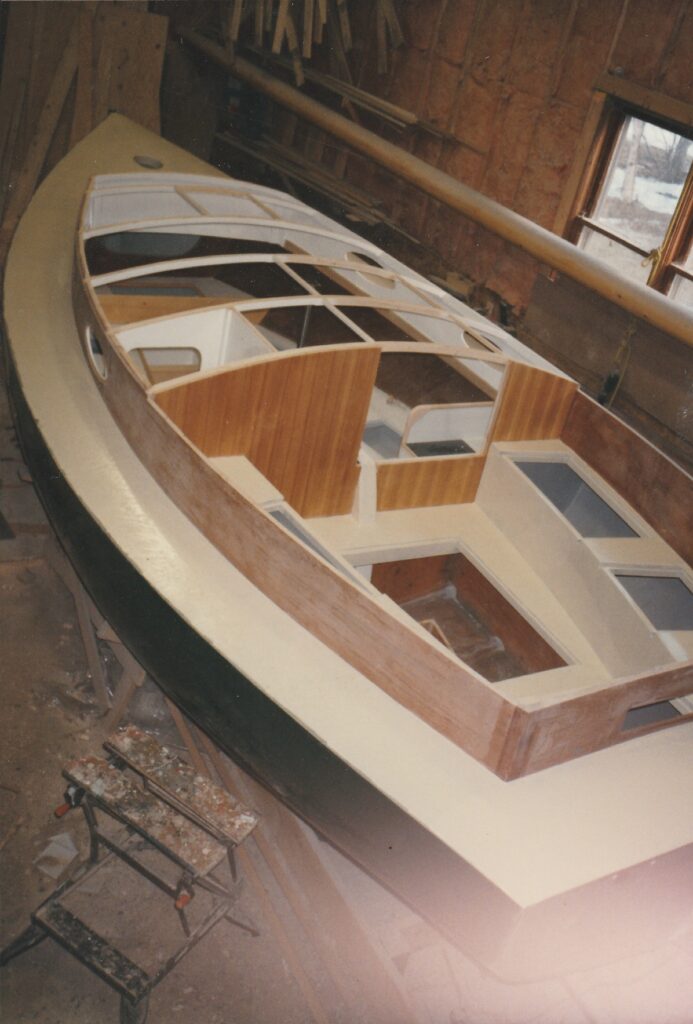 This was our first cold-molded hull. For years cold-molded wood construction has been used successfully in building small sailing dinghies, competitive rowing shells, cruising sailboats, rugged multi-hulls, and swift powerboats. The technique involves laminating together layers of wood veneers or very thin planks to create a hull that is watertight, extremely strong, and lightweight. With a layer of fibreglass cloth over the hull for abrasion resistance, the hulls are possibly the strongest and lightest, and with the greatest longevity of wooden boat construction.
We started Catspaw in the winter of 1996. All Catboats seem to have a name somehow connected with the sea and kitty cats! Our plan was to add to our charter fleet in the summer of 1996, but Keith was working on other projects not related to Big Pond Boat Shop, so construction was delayed. Meanwhile, the Bed & Breakfast and the first charter boat were busy.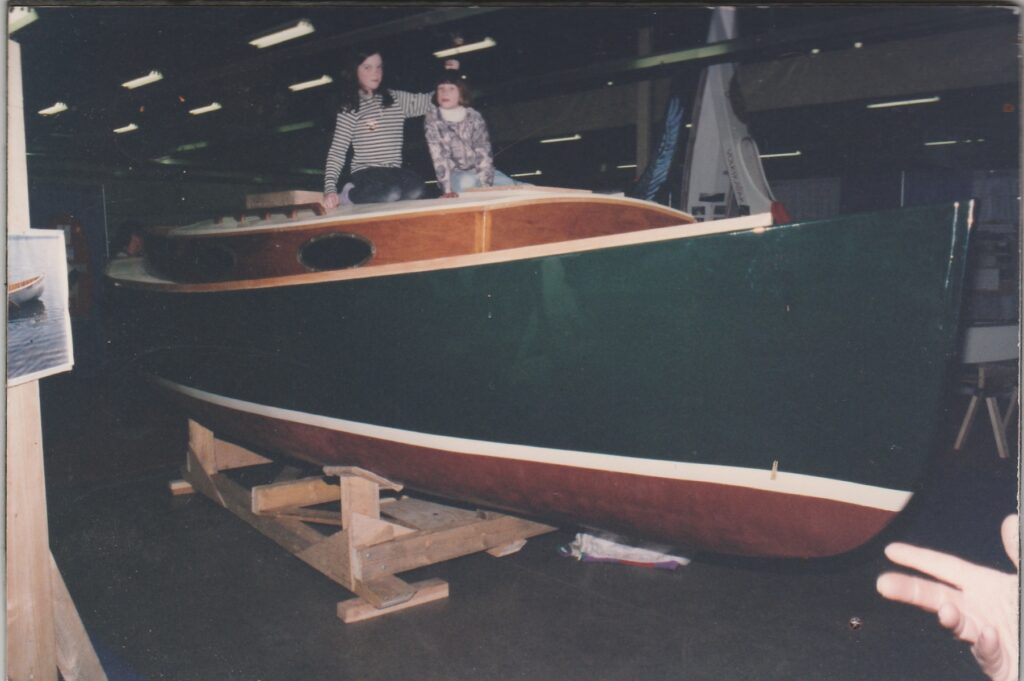 We decided not to over extend ourselves on equipment purchases as we knew the sail and the lovely bronze pieces that we would need to complete the rig would take most of the budget. Keith found a one cylinder Yanmar engine that some one was taking out of their sailboat and with a new injection pump and a few new accessories, it was the perfect engine. The spars we built with spruce from our local building material supplier. (We don't do this anymore…all our wooden spars are built from the best mast building wood we can find!) We found a bronze gaff parts supplier, Bristol Bronze in the USA, and supplemented with a few local finds, we put together the rig. Michele Stevens of Michele Stevens Sailloft Ltd, with the help of her father, cut the 325 square foot gaff sail and she put together a beautiful traditional sail. Down below, Catspaw has two very comfortable berths, a marine toilet, hanging locker and a little galley. Of course the accommodations are bisected by the centreboard case but they are very comfortable for a 20′ boat.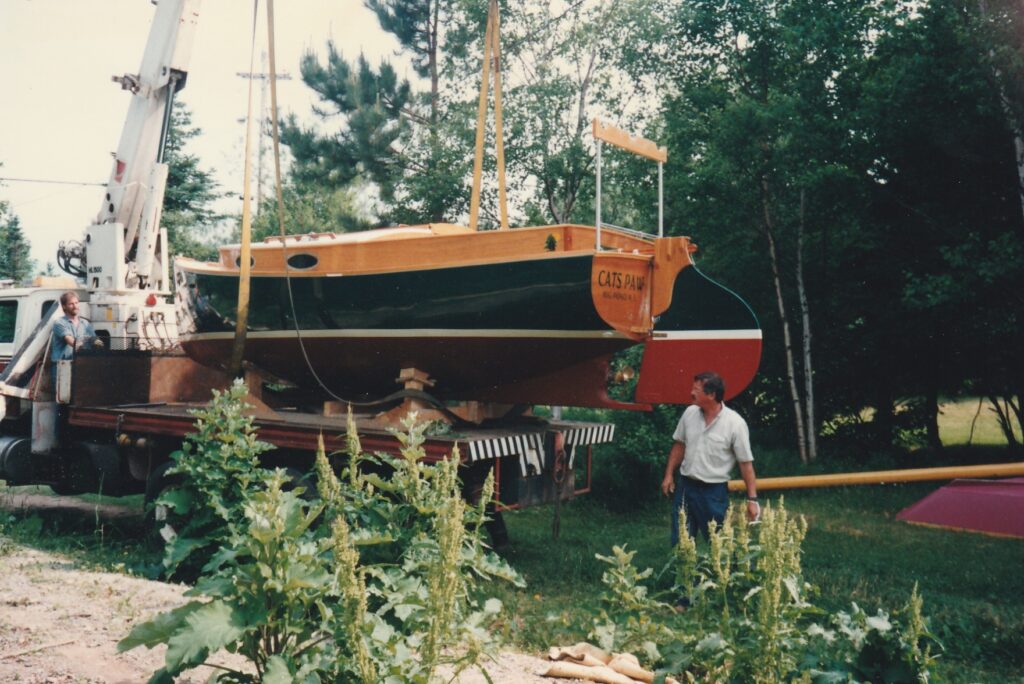 By February 1997, she was finished except for the rig, and we took her to the Halifax International Boat Show for a display along with other wooden boats. Launched in June 1997 she joined the charter fleet, and many of our charter guests have happy memories of sailing her on the Bras d'Or Lake. Catspaw was sold in 2003 and now has a fourth owner who sails her on Mahone Bay Nova Scotia.