By 1993, we were considering what we were going to do in our new life as home owners and parents.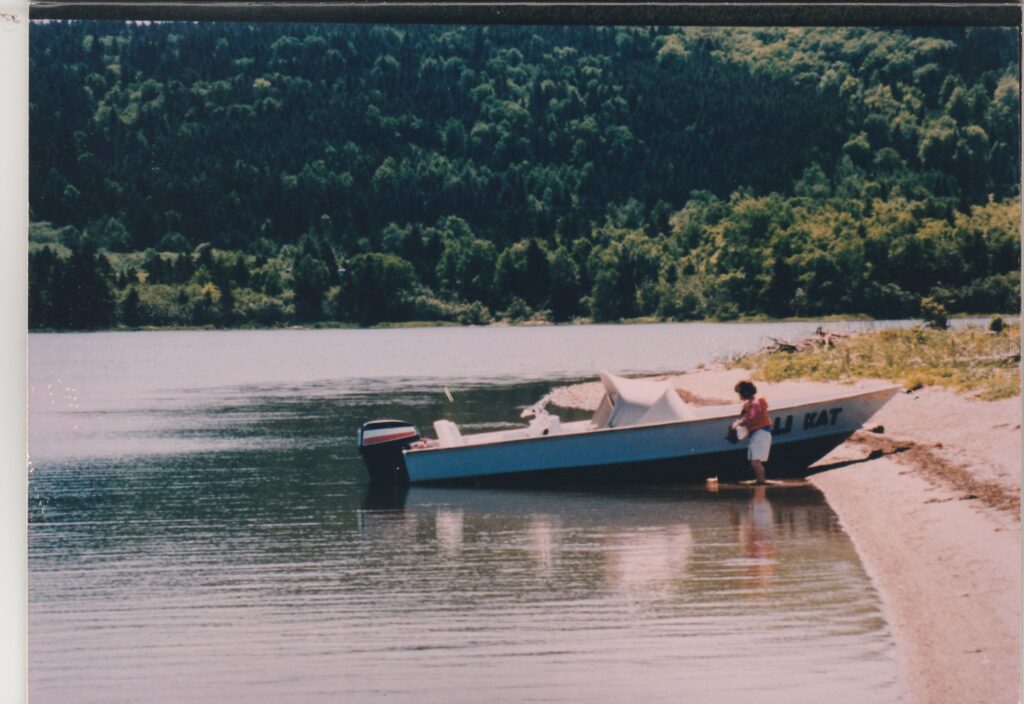 We had decided to open our house as a Bed and Breakfast, which was an excellent way to meet people, but we still liked boats and sailing. We came up with a business plan to create a bareboat charter company on the Bras d'Or Lake which we could run from our beach on the Lake. Not a bad plan at all, we just needed to get boats, we already had half the infrastructure, small tenders and a great 'crashboat' our 17'6″ ski boat 'Alli Kat' built by our friend Kevin Kusel in St Maarten, and accommodation for before and after stays for charterers.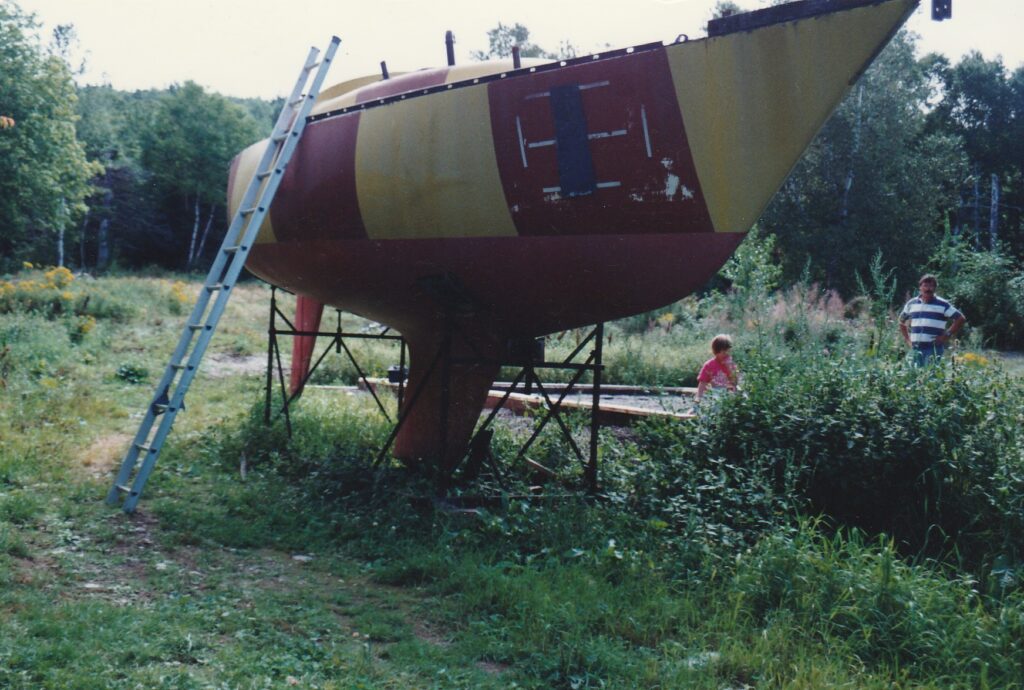 We started pricing 30′ boats and decided to build a boat…but one day while reading the newspaper we found an advertisement for a hull to be auctioned that had been purchased and used as a weather station. Proceeds of the auction were to benefit disabled sailors in Nova Scotia. We thought we would go and look at it. Painted yellow and orange it was a sorry sight but the paint did not disguise that it was a solid sea going hull. We went home and researched the make and put in a bid for what it would be worth to us and won the auction. The hull was built by Hughes in Canada , the design originally was a PJ 30 1/2 tonner, Sparkman and Stevens design  S&S #2098 which became the Northstar 1000 and then the Hughes 31 with the addition of a full skeg in front of the rudder. We contacted Sparkman and Stevens as we needed a rigging plan and they graciously gave us a set of plans. We did not like the deck so we took that off.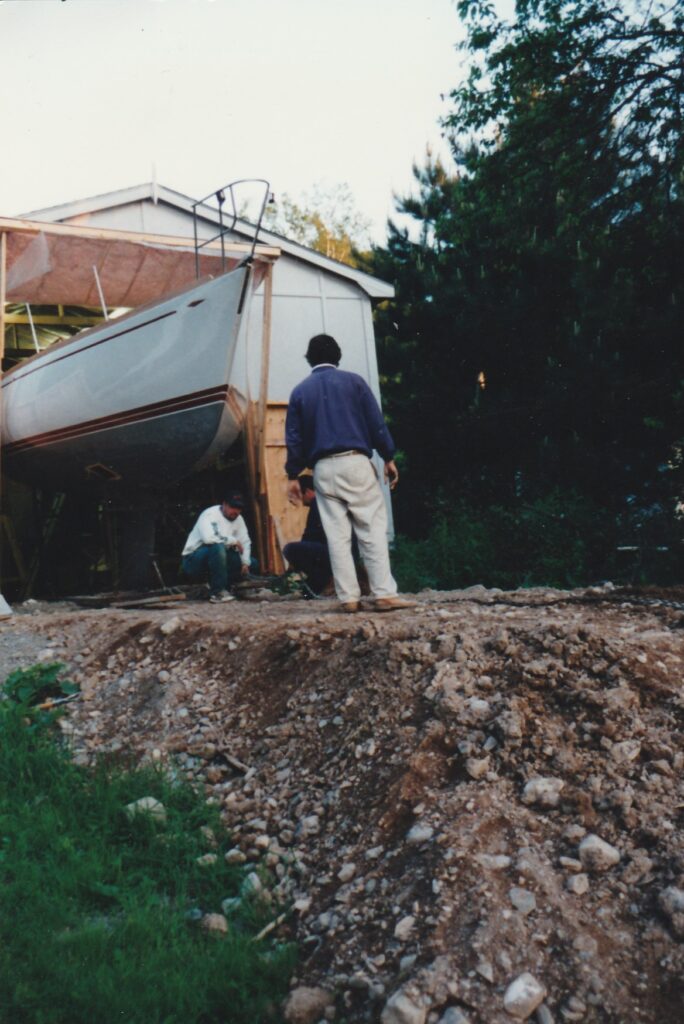 As we live in Canada, we thought that we would need to build a shed to complete the work on the boat. Well you cannot build a shed of the size that we needed without a building permit. In order to get a building permit, you need a survey. In order to have a building that might be used for building boats, there had to be a change of zoning. In order to change the zoning, the municipal council had to vote. In order to be legal the roads department had to say that we could have a driveway, and then when the zoning is changed all of a sudden it is commercial and the tax rate goes up! Very much a learning experience. But the shed was built around the boat, and construction began. We put heat into the shed so that we could work through the winter. We stripped off the yellow and orange paint revealing her S&S cove stripe we built a new deck and coach top and we fitted her out with a Yanmar diesel, a mast from EB spars in Quebec, a set of very nice Hood sails and launched her the following summer (94).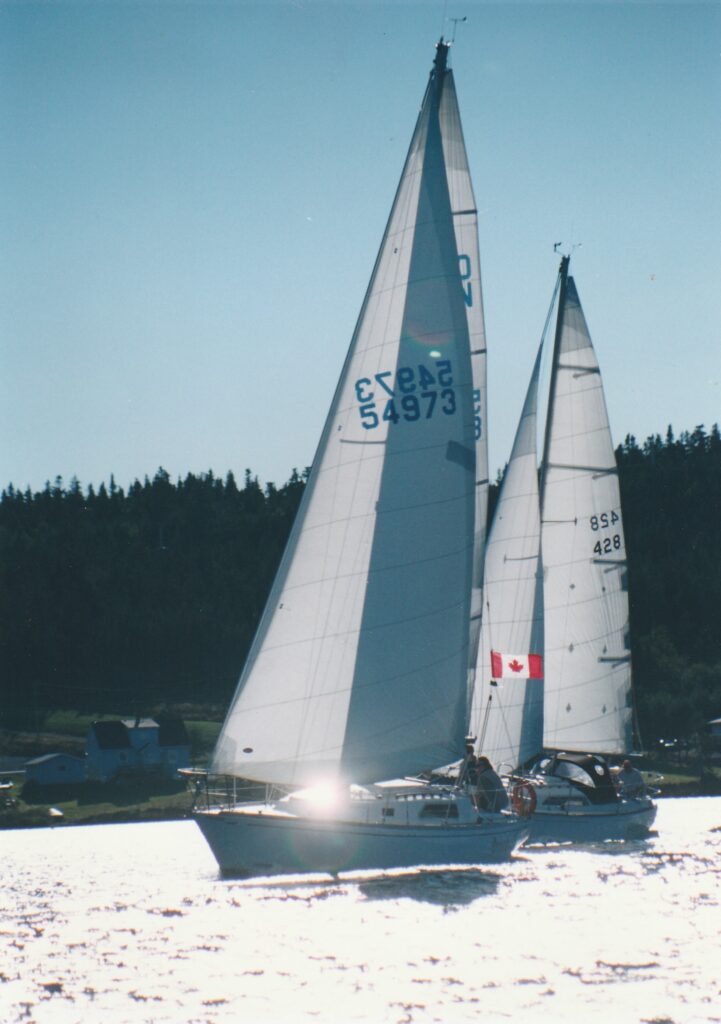 Named Drumbeat, the boat worked as a charter boat until 2002 when we sold her to a former charter guest. She remains on the Bras d'Or Lake.
We now had an insulated heated boat shop to start building boats, we had a fledgling charter boat company which created a client for our boats and we were keeping ourselves busy!